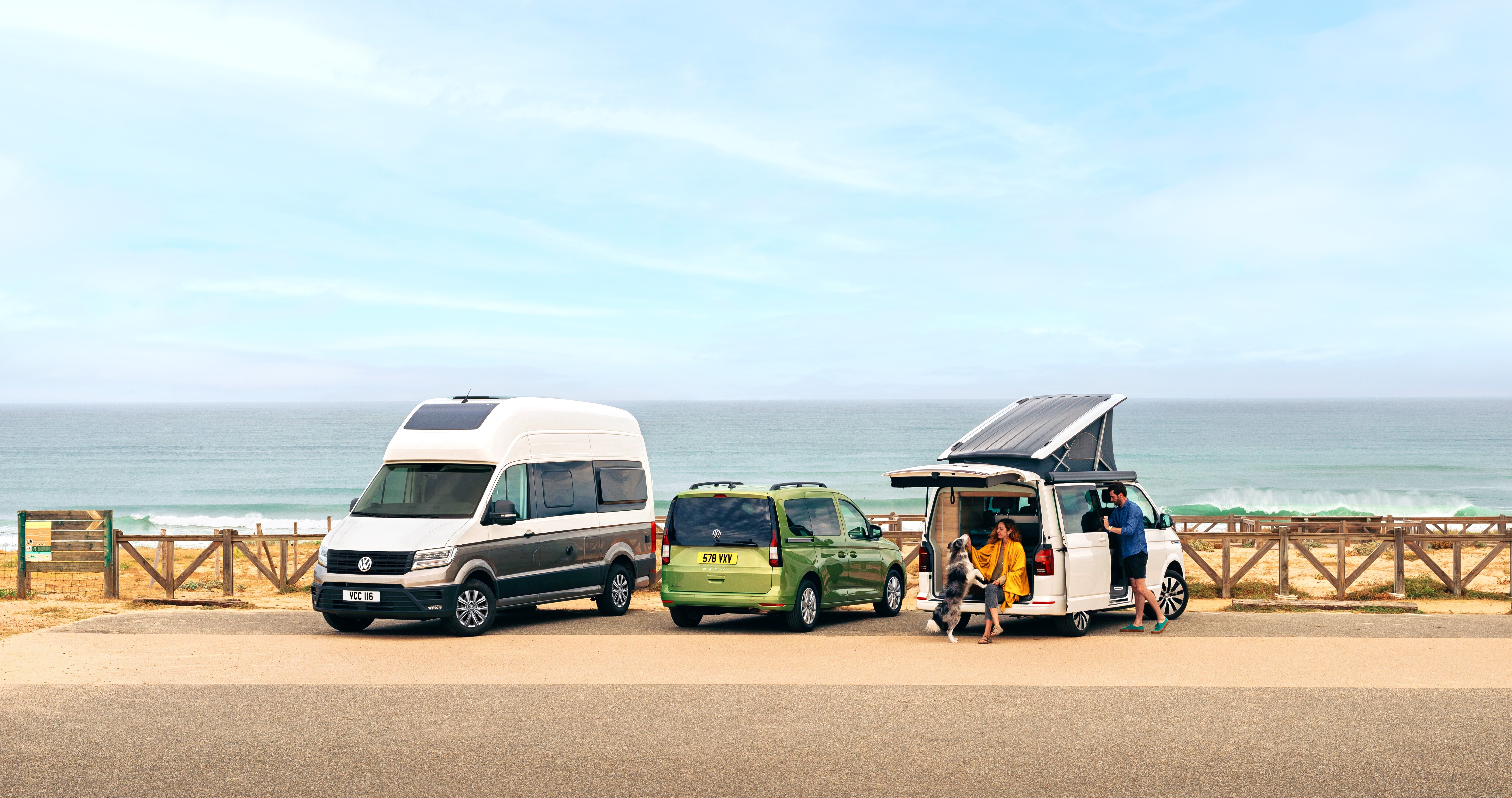 Please note: These vehicles can be found in the 'browse by category' tab using the camper van filter.
What vehicles are included in our campervan hire range
The range is made up of three different Volkswagen California variations.
The Caddy California
The California
The Grand California (available only at VWFS Rent-a-Car Portsmouth)
These rental vehicles really are versatile and have plenty of hidden secrets. At VWFS Rent-a-Car, we want to guarantee you the best staycations possible, by providing you with a reliable Campervan that can seat/sleep the whole family for a longer period. We have multiple campervans for hire that fit this purpose, from the Volkswagen California Ocean to the Volkswagen Grand California.

There are plenty of benefits if you go for a Campervan over a large car for your staycation. Starting with the double bed which can be found in the pop-up roof of the VW California Ocean, or even the portable dining area & a separate wet room that comes with the Grand California.
The possibilities really are endless.
---
TBYB for Campervans
As well as offering a range of Campervans on standard rental, we also are giving customers the option to try out our Caddy California and California Ocean on TBYB (Try Before you Buy). This means that you can simply enjoy the vehicle for up to 7 days and if you decide it's the one, we'll refund your rental costs when you order your dream camper.

---
Choose comfort. Choose versatility.
You can browse our fleet of lifestyle vehicles below available on rental. All vehicles are available and ready to book dependent on location.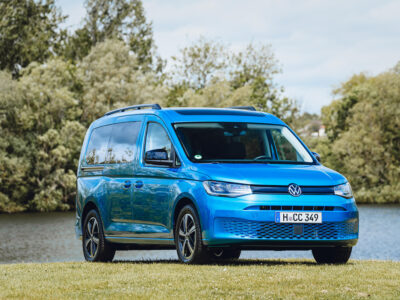 Caddy California
The Volkswagen Caddy California is the smallest of our three Lifestyle Vehicles but holds an array of hidden secrets. This versatile vehicle is well equipped and is definitely big enough to sleep two adults in comfort, the Caddy California is the perfect companion for your next adventure.

The Caddy California gets its name from the classic Volkswagen Caddy which you can see throughout our van range. We have the option to hire the Caddy Maxi, Life or Cargo. The Caddy really is the perfect smaller van, with its compact, but trusty interior. The Caddy California brings all the best bits of the classic Caddy together, to make the perfect smaller Campervan. We think it's the ideal Camper to take on a short weekend away surfing on doing something by the coast!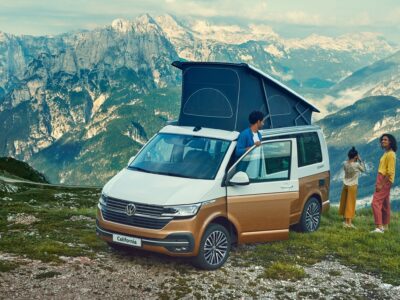 Volkswagen California
The Volkswagen California is great for those weekends away camping, where you don't actually want to be in a tent! It's compact enough to drive around like a standard people carrier but with some cool added extras, including a double-bed sleeping area thanks to the pop-up roof.

We currently only offer the premium version of the Volkswagen California. The Volkswagen California Ocean really does offer the most premium Campervan experience. The Ocean includes an electric pop-out roof & fully integrated kitchen, meaning you and the family can sleep in style, but also wake up to some delicious cooked food. The Ocean comes with a lovely pull out canopy & also tables and chairs so you can take in the beautiful UK countryside.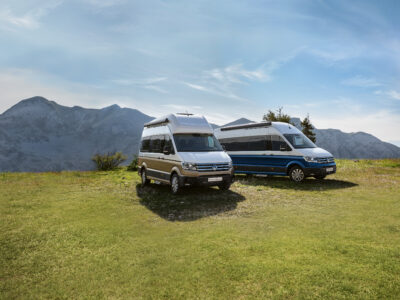 Volkswagen Grand California
This larger-than-life Campervan has all you need for your weekend away or summer staycation. It really is a home-from-home with its portable dining area, separate wet room, and modernistic touchpad controls, allowing you to monitor your lighting, battery, and water levels.

If you're looking for that Campervan that is going to take you all over the UK, then why not hire the Grand California to help you out? It has everything you need so you can stay out exploring the wilderness with just the family. This Camper is especially good in the summer months when you can enjoy some tasty food outside under the canopy, while the kids ride their bikes during a beautiful sunset.
---
What locations offer our range of Campervans?
---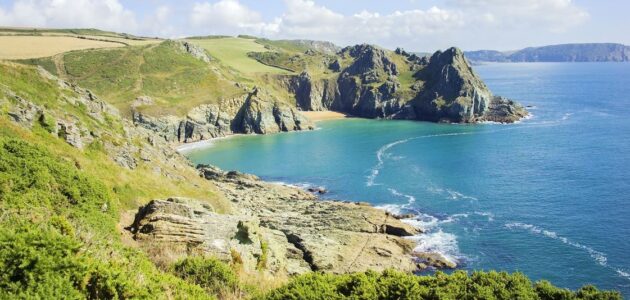 Blog Posts
Struggling to think of a staycation location, or just need some inspiration for trip ideas? Well, you've come to the right place.
Follow the link and check out a bunch of ideas to inspire you and your holiday plans, from the best views in the UK to the most visited camping locations. No matter the occasion, we've got you covered.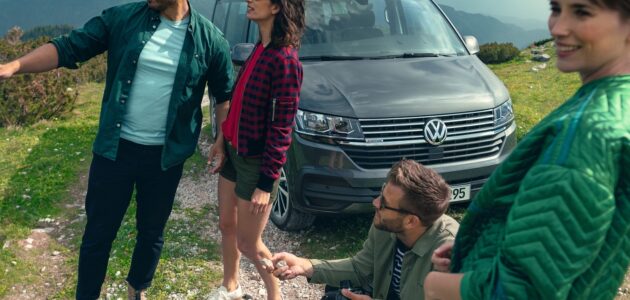 Featured Content
At VWFS Rent-a-Car, we know that it's hard to visualize yourself in front of the steering wheel through images on a website.
That's why we've brought together some high-quality video content to educate you on the ins and outs ofo ur campervans and the hidden treasures that come with them! You may even get some inspiration on where to travel in your camper.
*Please note that currently, this link will direct you to our Discover the UK page. However, later in 2023, we will provide you with loads more influencer content that specifically targets larger vehicles!
---
How does hiring work?

We make renting a 7 and 9-seater lifestyle vehicle as easy as possible, with no hidden extras. What you see is what you pay for. It's simple:
To book the ideal lifestyle vehicle that's right for you, click above on View Model, and we'll get you swiftly and safely behind the wheel.
Alternatively, if you have any questions, just head to our contact us page for further support, or to speak to one of our experts.