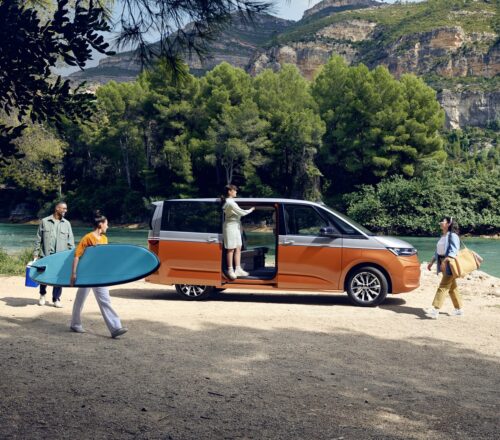 Undecided about whether an Electric Vehicle is for you, why not try out our Hybrid range?
Below we'll discuss all the benefits which will ease your switch.
---
What Hybrid Vehicles do we offer at VWFS Rent-a-Car?
The Volkswagen Golf 8 Life 1.5 Ltr eTSI
The ŠKODA Superb Hatch SE L 1.4 Ltr TSI iV
The Volkswagen Multivan Life Hybrid
* Scroll to the bottom of the page to find direct links to all Hybrid Vehicle model pages

---
Did you know there are different types of Hybrid vehicles?
We offer two types...
Mild-Hybrid
Likewise to a full-hybrid, the mild hybrid vehicle type uses a battery-powered electric motor in support of a traditional petrol or diesel engine. This has many benefits such as improved efficiency and reduced emissions. However, unlike hybrid types such as plug-in hybrids, mild hybrid vehicles cannot function on electric power alone. Instead, they have a small electric motor that is connected directly to the traditional engine, and this gives the vehicle a slight boost when accelerating.
Mild hybrids also don't need to be charged as they use regenerative braking to charge the battery while driving.
Plug-in Hybrid
Now, plug-in hybrids on the other hand act as a really good stepping stone for you if you still have that range anxiety with fully electric vehicles. Plug-in hybrids have a smaller fuel engine compared to mild hybrid vehicles and can be powered exclusively by electric power.
Due to their larger battery pack, plug-in hybrids gain little charge from regenerative braking. Therefore, they must be plugged in to get the full zero-emission benefits.
Once the battery goes flat in your plug-in hybrid, the electric motor will still provide some assistance to the fuel engine, saving fuel compared to a fuel-only vehicle.



So with the help of that fuel-engine fallback, remove range anxiety and try out our hybrid vehicle range.