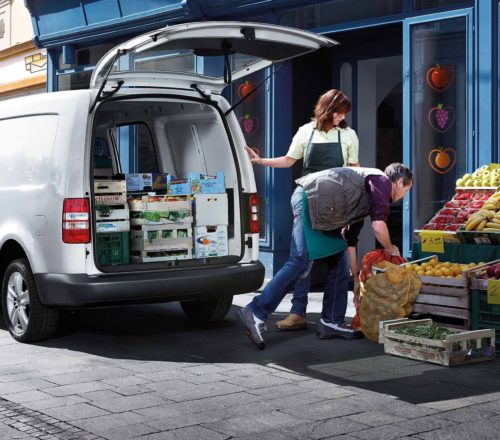 Volkswagen Caddy - The Ideal Compact Van.
The Volkswagen Caddy is a compact van that's perfect for businesses that need a reliable and practical vehicle for transporting goods and equipment. This van offers you the reliability, space, and comfort of our larger vans, but in a smaller format; so for those of you who aren't used to driving a larger vehicle, check out our range of Volkswagen Caddy vans today as this smaller van is larger than life.
At VWFS rent-a-Car, we have options to hire this vehicle in a range of formats:
Caddy Panel Van
Caddy Maxi Panel Van
Caddy Maxi Kombi
Caddy Life Van
No matter your use case, we'll have an option for you. The Kombi and Life options come with rear seats. However, if you only need the load space, then the Panel Van is your ideal vehicle.
*Please check the booking tool at the top of the page for live availability.
---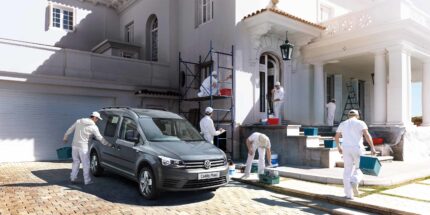 ---
Design
The Volkswagen Caddy has a practical and functional design that maximizes its cargo space while still being easy to drive and manoeuvre. The van has a variety of options for loading and unloading cargo, including side and rear doors that can open wide to make loading and unloading easier. The Caddy is available in a number of different styles including the Caddy Maxi Panel Van which has a much larger load space than the regular vehicle.
Performance
The Caddy is available with a range of efficient engines that provide good performance and fuel efficiency. The van's suspension is designed to deliver a smooth and comfortable ride, with good handling and stability even when fully loaded. The Caddy's fuel economy is also impressive, with some of our models achieving up to 50 miles per gallon.
(Please contact your nearest location to check which features your vehicle comes with, as these can change depending on availability & model year)
---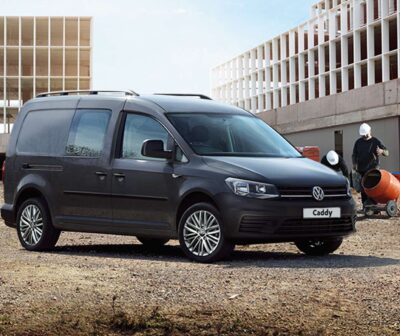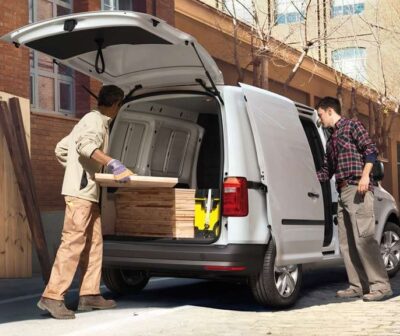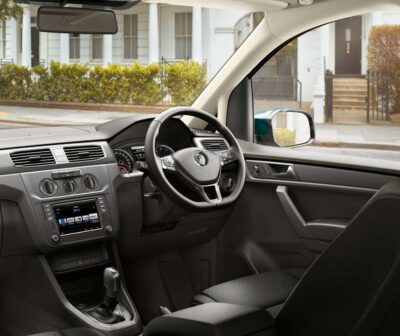 ---
Technology
The Caddy is equipped with the latest technology to make driving and working easier and more enjoyable. The van's infotainment system has a large touchscreen display and supports smartphone integration with both Apple CarPlay and Android Auto. The Caddy also features a range of driver assistance systems, including rear parking sensors and a rearview camera.
Safety
Safety is a top priority for Volkswagen, and the Caddy is no exception. The van has a range of safety features, including multiple airbags, electronic stability control, and tire pressure monitoring. The Caddy also has a five-star safety rating from Euro NCAP.
---
What models do we have available for hire at VWFS Rent-a-Car?
| Model name | Length | Load space |
| --- | --- | --- |
| Caddy Panel Van | 4408mm | 3.2m3 |
| Caddy Panel Van Auto | 4408mm | 3.2m3 |
| Caddy Maxi Panel Van | 4878mm | 4.2m3 |
| Caddy Maxi Kombi | 4878mm | 1.6m3 (with rear seats in place) |
| Caddy Life Van | 4408mm | 3.2m3 (with rear seats removed) |
| Caddy Life Van Auto | 4408mm | 3.2m3 (with rear seats removed) |
*Not all models are available at all locations.